Protective Film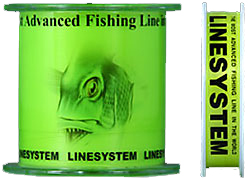 Products not enclosed in a case are covered with a protective film. This protects from UV rays and dust for higher quality of use. For products with attached indicators such as the Lb-System, please recover and store any unused portion of the product to prevent degredation.

※Nylon products are particularly susceptible to water absorption at ambient temperature and natural degradation. We recommend storing in a dark cool place after purchase and using as soon as possible. PE and fluorocarbon products are usually free from changes in quality, but we recommend taking care in storage.
Line Stopper Band

Nylon and fluorocarbon shock leaders come with a line stopper. The contracting rubber finish provides protection for line at the bottom of a spool after use. This line leader is parallel wound, but is free from frayage line trouble. The line stopper band provides protection to the very end for smooth line feed.
LB-SYSTEM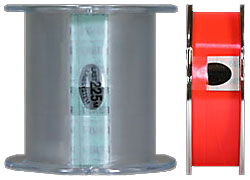 This system was developed by LINE SYSTEM in 1998 for midway sticker placement with parallel winding. As an example, for a 150m product, the line would be inserted between the sticker and backpaper every 75m to provide measurement of line use without damaging the line.
However, in the case of 300m wound bulk line, the remaining amount decreases 75m for every sticker. This goes in the order 225m → 150m → 75m so there is no left-over line.